» News
Some semopar.com members getting some attention!
Aug 05, 2012 - 11:07 PM - by SmokedRam
This past June some of went out for a little photoshoot after the Cianfrocca's Cars & Coffee event. Well, I submitted one of our pics for a Facebook cover photo to Steven's Creek Dodge Chrysler Ram. I was informed tonight that our pic won...For those that don't have Facebook, here is a screenshot of their page.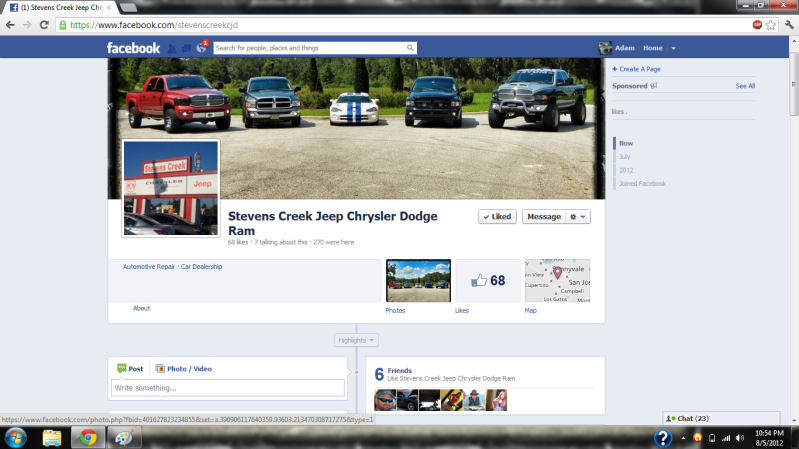 11 Replies | 12,851 Views
Please Welcome American-Powerhouse
Jun 25, 2012 - 10:07 AM - by BAD HABIT
Please Welcome American-Powerhouse as our newest preferred vendor. They offer an array of products to modify your vehicles. If you dont see it on the website feel free to ask if they have it. They are not vehicle brand specific so if you need that special gift for somebodies other brand of vehicle, they have those as well. They also offer products of the day. They have great customer service, that most manufacturers dont offer, with prices that compare.

semopar.com WELCOMES... [Read More]
18 Replies | 12,047 Views
hotrodhotline.com's coverage of our show...
Feb 29, 2012 - 6:18 PM - by BAD HABIT
check this out we got some good coverage....http://www.hotrodhotline.com/feature...home_car_show/
3 Replies | 10,768 Views
Banners!!!!
Oct 10, 2011 - 3:05 PM - by AWE Daniel
Posting this up for Jay, the banners got finished.


35 Replies | 13,824 Views
Home Page is up
Oct 07, 2011 - 5:54 PM - by OklaHemi
Thanks to Shaggy we now have our official SEM homepage. it will be updated with the latest goings on. you can click the home button in the upper left or go to http://www.semopar.com/ .
32 Replies | 14,973 Views